Purchase directly from the manufacturer
Duratec bikes are developed and manufactured directly in the Czech Republic, in the middle of Europe. Therefore, we can easily distribute our products directly to you - no middleman, no businessman. We save your money. We ensure individual approach and individual manufacturing process of your bike. That is the reason why customers buy from us.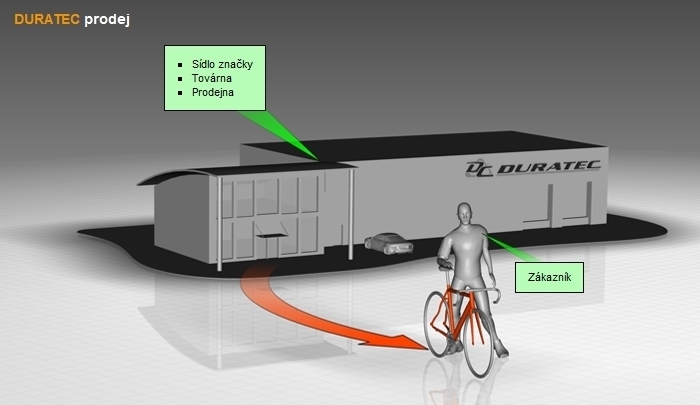 Advantages of direct sale
Your questions will answer directly from production, from factory. From the first idea to final assembly of the bike is everything in our hands. Our sales and service department receives experience from the production and sales practices, and this differs significantly from the classical trade arrangement where the majority of bikes is sold according the catalog.
Directly in our factory we can help you to design an optimized geometry of the frame and optimized position to boost your power on the bike. Health of racer is the top priority for us. As manufacturer we offer 13 sizes of each model, not only S, M, L, XL as the others. You can choose right size from our offer or if you need individual change in geometry, we will made frame with geometry according your wish. CUSTOMIZED FRAMES
We can communicate directly with you. We know what you expect from your bike and what components you prefer. We test the best in each price level. Our experience based on direct sales. New groups of bikes are created through your requests during buying bikes. We know where is your interest and we have the feedback. Everybody may be involved in the innovation of our complete products.
Our service technicians know the concrete customer. We are ready to help you with montage or we can supply the correct spare part for your bike. If you need service, we are ready. Our engineers are also racers and they ride exclusively on Duratec bikes.